The night of Jan. 5, 2022, days after the city rang in the New Year, the Model Market grocery store, 2327 54th St., was ablaze. The fire, which killed one, left a mess of metal, rubble and ice.
"Hundreds of people shopped at Model Market," said Tony Moore, who runs a group home in the Columbus neighborhood where the market once stood. "They did their best to compensate for not being a big box store."
Today the lot is completely bare, an empty spot in the neighborhood. The fire was a reminder of the longstanding issue of food insecurity in the area; the century-old grocery store was a convenient source of nutrition in what is generally considered to be a food desert.
There are currently plans for a grocery store in the first floor of the Uptown Lofts project on 22nd Avenue, which is still in development.
But the issues at play extend far beyond the Columbus neighborhood. Whether in Uptown or out in the county, many thousands of Kenosha residents area dealing with persistent food insecurity.
FoodShare and food pantries
Date for FoodShare, Wisconsin's equivalent to food stamps or SNAP, indicates a large swath of Kenosha County faces some level of food insecurity. It's an issue exacerbated, but not started, by the pandemic.
In 2019, prior to the pandemic, monthly recipient data shows that just over 20,000 Kenosha residents were receiving FoodShare benefits. That number had been decreasing since 2011, the oldest available FoodShare data, when over 25,000 residents received benefits. After nine years of gradual decrease, those numbers reversed course during the pandemic. In 2021 Kenosha County's FoodShare numbers returned to their 25,000 peak and today, two years later, numbers have remained above 22,000.
That means about 13% of Kenosha County residents, one in every eight, are receiving FoodShare benefits every month.
After Feb. 28, additional pandemic FoodShare benefits ended, cutting about $100 of monthly benefits and causing a wave of worry among food pantry leaders who warned of increased demand for their services and negative consequences for residents forced to make difficult day-to-day decisions.
"Do I get my medication or do I eat? Do I feed my pets or myself?" April Guenther, director of senior services at Kenosha Area Family and Aging Services, said recipients were asking in February.
The benefit cut was coupled with an increase in grocery store prices and what Moore described as an ongoing mental health crisis from the pandemic for Kenosha's most vulnerable populations.
"You can see what the pandemic did to a lot of people, when it comes to dealing with life," Moore said. "People died. People have a lot of grief and mistrust."
Faced with these challenges, Moore said he sees more people relying on food pantries, which have been "a godsend."
"The pandemic just exploded. Before, people had pride; they didn't want to do it, they just made it through," Moore said. "Now, your pride will make you starve."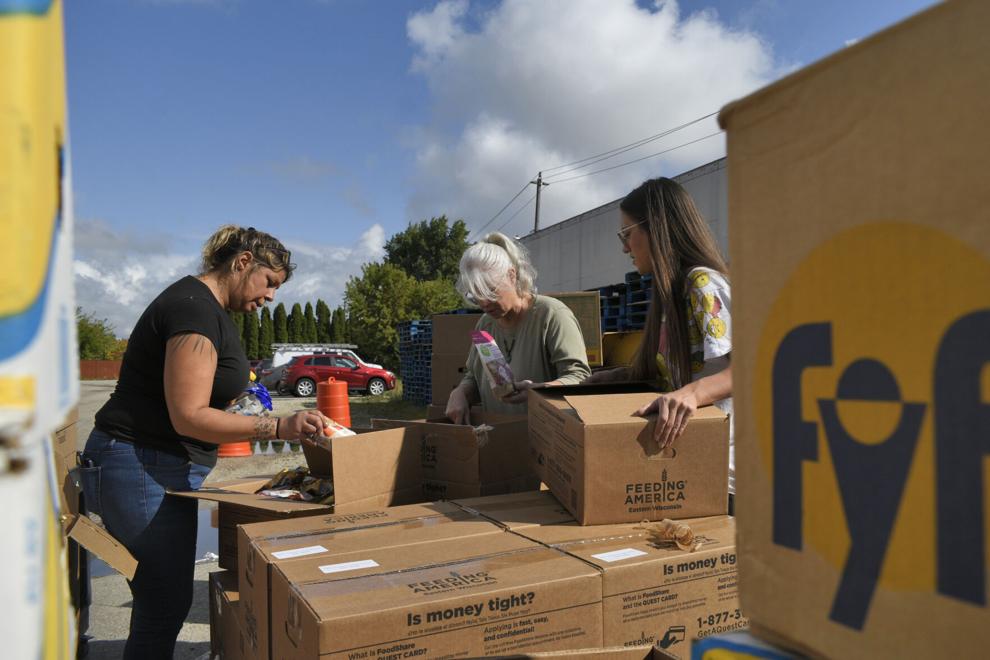 Over the summer, food pantries big and small saw the predicted increase, and are now operating under a new normal likely to stay for the foreseeable future.
At the St. Vincent food pantry, comparing data from July 2022 to July 2023, the number of families and individuals assisted has more than doubled, while the amount of food being distributed has more than tripled.
Manager Lisa Roberts said their services are likely to remain at this increased level, a view other pantry directors shared.
"What I have found is, once you hit a certain situation, it stays there no matter what," she said.
Roberts said their pantry sees people from a wide variety of backgrounds, but highlighted the growing number of pantry users with jobs who still need help.
When she first started at the pantry five years ago, "the people we saw were people with disabilities, or people who were not employed for whatever reason," Roberts said. "Now we're seeing a lot of people who are employed."
Tamarra Coleman, executive director of the Shalom Center, said they've seen an uptick in new families and first timers. She said the pandemic pushed people over the edge as they lost jobs, got sick or faced other struggles.
"We're registering a lot of new people that have either never come here before, or haven't been here in a very long time. So for me, that tells a story," Coleman said.
At the Grace Welcome Center, a food pantry started prior to the pandemic and now serving over 200 families a week, Director Denise Russell also noted the gradual uptick they've seen since the end of FoodShare.
Every week they give out thousands of pounds of food and Russell said they're seeing more people, more often. While the relatively new pantry has kept up with demand over the past few years, they've reported close calls in the past and shortages of some goods.
Ironically, it was cheese proving the most elusive recently.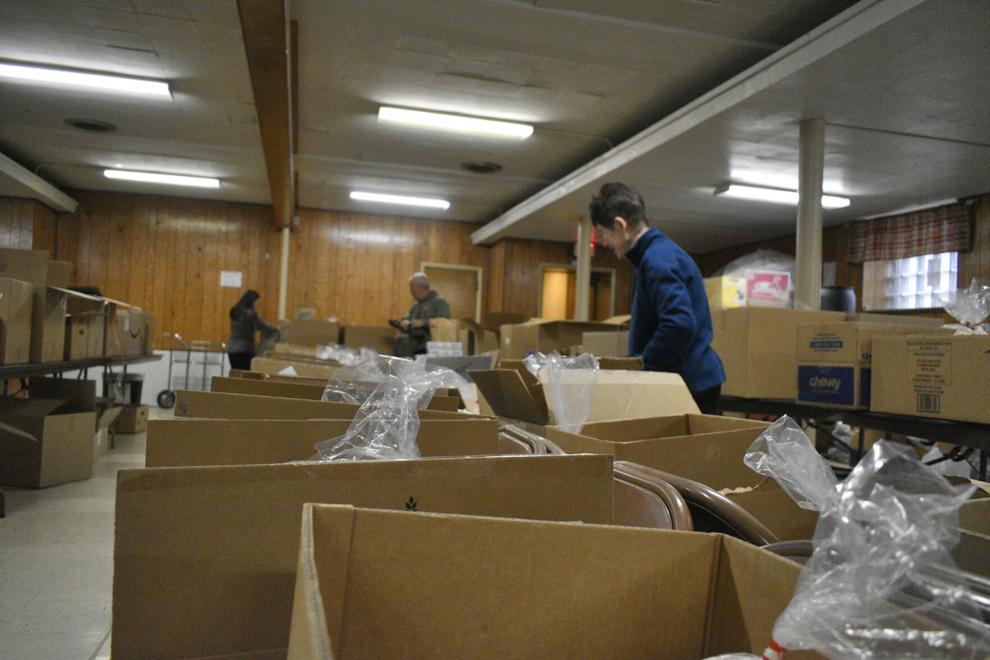 "We're the dairy state, and it's been two months since we've had cheese," Russell said.
Kelli Hirt is director of Wisconsin Food and Nutrition services with Vivent Health, a wraparound service and health provider for people living with HIV. It offers a food pantry as part of its medical care, serving about 40 pounds of food to 30 people a month.
Hirt said they too have seen an increase, giving out about 9,600 pounds of food last year. They're already likely to beat that this year.
"People are so grateful to get a little extra help," Hirt said.
Kenosha County
Out in the county, the concerns are largely the same. Sharon Pomaville, executive director of the Sharing Center, said they currently serve about 3,600 people and anticipate distributing 450,000 to 500,000 pounds of food by the years end.
She pointed to April 2022 as the start of their gradual increase, when food prices began to rise.
This July brought record-breaking numbers of families to the Sharing Center. Pomaville emphasized they were more than capable of absorbing the increased demand.
"We have built our agency on all levels with the capacity to serve double what we currently do, so we are able to meet the current and potential needs of our community," Pomaville stated.
Pomaville expected increased demand to remain for years to come, pointing to the 2008 recession, which saw "nine years of increased users annually."
"Although our economy is stressed for a different reason, we know the high need may last a few years," Pomaville said.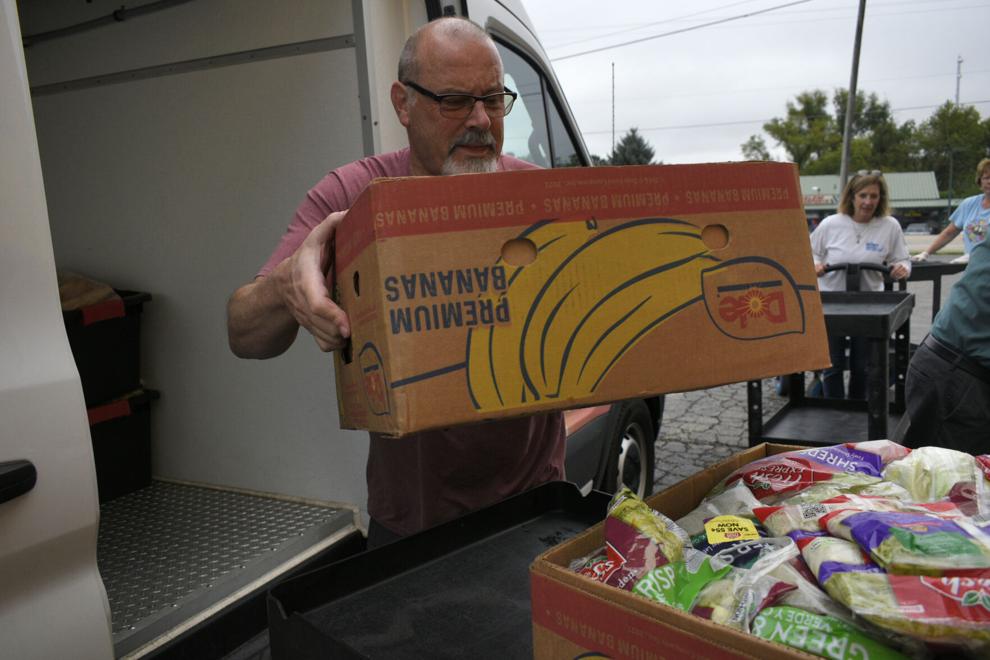 According to Pomaville, 28% of users this year are new and they often cite rent increases, the loss of FoodShare benefits, death and illnesses, insufficient retirement benefits, divorce, domestic violence and homelessness as causes.
Addressing on the local level
Pantry leaders described what they were seeing as their numbers increased.
"They're pretty desperate, they're telling us they're really struggling and they're having a hard time," Roberts said.
Russell echoed that sentiment.
"That's what I see," Russell said. "They sound desperate."
As several food pantry leaders highlighted, food insecurity is complicated, a convergence point of issues of housing, employment, childcare and more. It's also far reaching; Kenosha wasn't even in the top 10 Wisconsin counties with the highest proportion of people on FoodShare.
Many emphasized the importance of wrap-around services for addressing food insecurity on the local level, connecting people with other resources in the community. Food pantries can act as gateways to additional help.
"There are many programs that can help, all of which are accessible at or through the Sharing Center," Pomaville said. "(They can include) financial literacy training, job training, WIC and student school meals.
Coleman said residents hoping to help can always donate and volunteer at their local food pantry. She also highlighted how food pantries like the Shalom Center's could introduce people struggling to a network of other resources and organizations.