As some prepare for family gatherings around a Thanksgiving table laden with holiday dishes, others throughout the Fredericksburg area are working to make sure everyone has something to eat.
Putting food on the table has been especially difficult in recent years as rising costs, at every turn, gobble up paychecks.
"Truly, the prices at registers everywhere are killing people," said Lee Cheney, executive director of SERVE in Stafford County. "Your working poor families are affected by everything that happens within the political landscape: when gas prices rise, when inflation goes up, when unemployment is high, when food costs go up."
In recent months, the numbers at SERVE, Stafford's largest and oldest stand-alone food pantry, have shot up 400%, Cheney said. Some of the increase is due to expanded outreach, efforts to provide more fresh produce and working closer with schools to identify and help families.
But another reason for the the jump — from about 750 people a month in July to 2,200 individuals in each of the last two months — comes from opposite ends of the spectrum. There's been a "tremendous" increase in requests for regular food boxes from white senior citizens and young families of servicemembers at Marine Corps Base Quantico, Cheney said.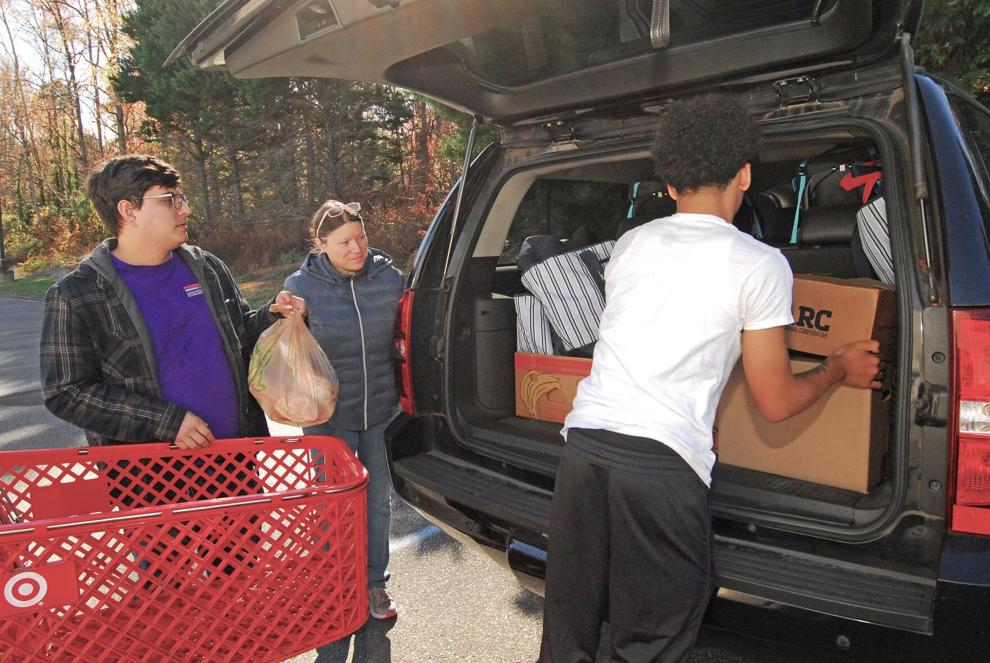 Other food-related groups across Fredericksburg are facing similar increases, which mirror trends across the state and nation. The number of families struggling to provide food climbed to 12.8% nationwide in 2022, according to a USDA report. That was 3.5 million families more than in 2021.
The Fredericksburg Regional Food Bank is seeing 25% more requests this year than last, said Dan Maher, president and CEO. And that's on top of unprecedented spikes in 2021, which he said were 64% higher than the previous year.
"We've just seen this steady climb and growth," he said. "It's the lingering of inflation and sticker shock of going to the grocery store, trying to get those dollars to stretch further. For some, it's an impossibility. It's a very sad situation that there's that much need in this area."
'Heartbreaking'
Teri Reece has lived in the Fredericksburg area all her life, been involved in various community efforts and has never seen needs at this level. She's working with Elisa Bonilla at Ristorante Renato's in Fredericksburg to deliver hot meals on Thanksgiving Day.
Four years ago, the Bonilla family, including Elisa's mother, Teresa, and father, Jose, who died earlier this year, started the tradition. Staff, waiters and volunteers cook hundreds of pounds of turkey breast, add all the trimmings and deliver hot meals to individuals' doors.
Last year, the Renato's team served 365 meals.
This year, Reece had to cut off requests last week when the total reached 900 meals — only because the group can't cook anymore than that.
"It's heartbreaking, absolutely heartbreaking," Reece said, describing situations people have told her when they've asked for a meal. "I'm gonna cry when I think about their stories. There's elderly, alone, people in the shelters, veterans and their families, children."
Part of the increased demand may be because additional food benefits, related to the pandemic, ended this year, Maher said. But there's no denying the impact of sticker shock, Elisa Bonilla said.
"You can't rent an apartment downtown for less than $1,500," she said. "You understand how it's become like this, we're growing fast, but at the same time, people are falling on hard times because everything has become so expensive."
Buy food or pay bills?
Kim Castillo knows all about that. The Spotsylvania County woman and her husband, Hector, qualified for SNAP benefits, formerly called food stamps, after both lost their jobs this year. He later found work as a restaurant general manager, and she's delivering groceries through a private company.
They no longer qualify for government assistance because of their income.
About the same time as the job changes, a doctor recommended their oldest son go on a gluten-free diet because he wasn't growing at normal rates. He's 11 and also has attention-deficit/hyperactivity disorder. His two younger brothers, 9 and 7, are on the autism spectrum.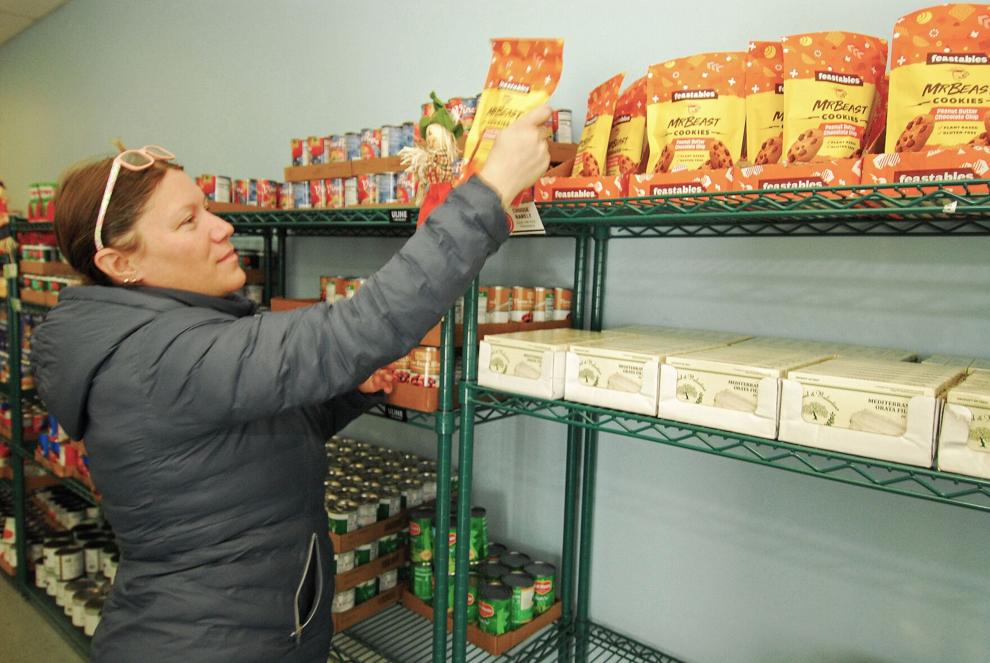 About the time of the gluten-free recommendation, the family water heater went kaput, and the Castillos waited weeks to get it repaired. They still haven't fixed the front end of her Chevrolet Suburban after it was damaged five years ago; they just don't have the money.
"I think everybody is struggling with (the prices of) food in general," she said. "When you have to pay for other things, it's like, do I get food or do I pay this bill?"
It's particularly difficult, she said, for those who need special diets because of the extra expense. A gluten-free loaf of bread can cost as much as $8.50, she said, and it's smaller than an average loaf. She's thrilled when regular boxes from the Food Bank include gluten-free items.
"I'm ecstatic because it does take a little pressure off," Castillo said. "I really don't think I would be able to provide food to my family if we didn't have the assistance from the Food Bank and the pantries."
'Heroic angels'
Lisa and Mike Haas of Stafford are volunteers and members of the board at SERVE, and last week, they participated in their favorite activity of the year: handing out bags of food and frozen meat for Thanksgiving meals.
He put his 21 years of Marine fitness to work as he climbed into the back of trucks and unloaded turkeys and hams. She weighed everything that was offered and greeted people who were grateful for the help.
"It's a blessing, let me put it to you that way," said Lucille McDowell, after she gingerly hobbled to the table to get her food.
Robert Chapman dropped by SERVE from his job delivering packages.
"It helps me and my kids and my wife. I've been down and out the last couple months," he said.
Lisa Haas said one lady literally cried on her shoulder because she didn't think she'd be able to feed her family a Thanksgiving meal.
"People are very much appreciative," Mike Haas said. "It's been humbling."
As a board member of the food pantry, he realizes the increase in demand correlates with a decrease in donations. Maher at the Food Bank said the same. About half its revenue comes from donations from October to December.
"We know in the last year or so, financial giving has dipped because a lot of our core givers are feeling the pinch themselves," Maher said. "What used to be a cushion is no longer there."
But just as Reece noted the incredible need for Thanksgiving meals, she also saw Renato's patrons come through with donations, of everything from cash to sodas and pumpkin pies.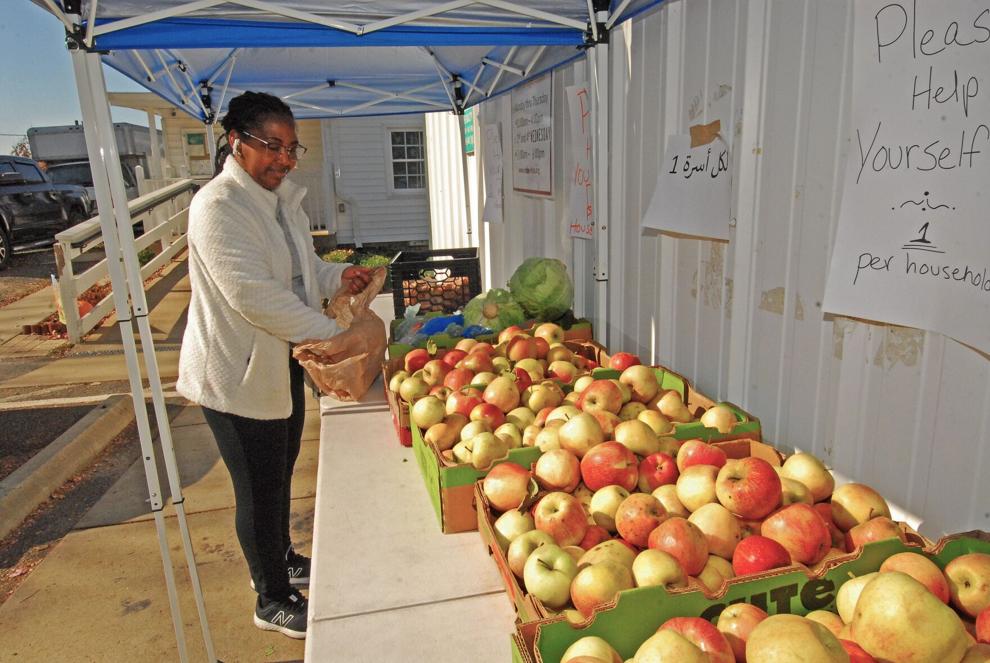 "I found heroic angels that we actually have in this town," she said. "God bless them for what they do."
More information about the Fredericksburg Regional Food Bank is available online at fredfood.org. The website for Stafford's pantry, SERVE, is serve-helps.org.
Cathy Dyson: 540/374-5425
cdyson@freelancestar.com