The Forest Maze is one of Super Mario RPG Remake's most beloved areas. It also includes a secret treasure room that you can find, if you're careful. There's a hint to it in the game, depending on how you act as well, and even if you don't receive it, you can wander right into it during the "maze" section of the forest. It contains a few useful items, and is just a neat little reward for being a good person in the context of the game.
While this is an obvious moment for players who completed the original game, there are surely going to be fans of Mario who are exploring Super Mario RPG Remake for the first time. With that in mind, here's where you need to go for the Forest Maze secret treasure room.
---
" class="promoted-img" loading="lazy" width="1440″ height="220″ alt="fortnite-promotional-banner" />
Where is the Forest Maze secret treasure in Super Mario RPG Remake?
You won't see this in Super Mario RPG Remake's Forest Maze until a bit later in the dungeon. The moment you see Geno start wandering into the maze-like area (four exit square rooms in the woods), you'll know it's time. Instead of following the path Geno sets out for you, you'll want to head this way instead in the highly-anticipated role-playing game:
Left (Upper-left exit)
Left (Lower-left exit)
Straight (Lower-left exit)
Right (Upper-left exit)
However, there's a catch to this secret treasure room in Super Mario RPG's Forest Maze. The final room is a little awkward. Though it's technically right, you're going to the upper left room. It might sound strange, but that is the path. If you go any other way, you'll just get lost in the maze.
You'll know when you've arrived once you see a singular tree trunk-style pipe that you can dive down into. Be careful when doing this, there are lots of Mushroom and Bee enemies in this area, so that can distract you and turn you around. Dish out plenty of Timed Hits if you get caught in battle and move on.
Treasure room rewards
Mushroom x3 (Restores HP/FP immediately)
Flower (Increases FP immediately)
Frog Coin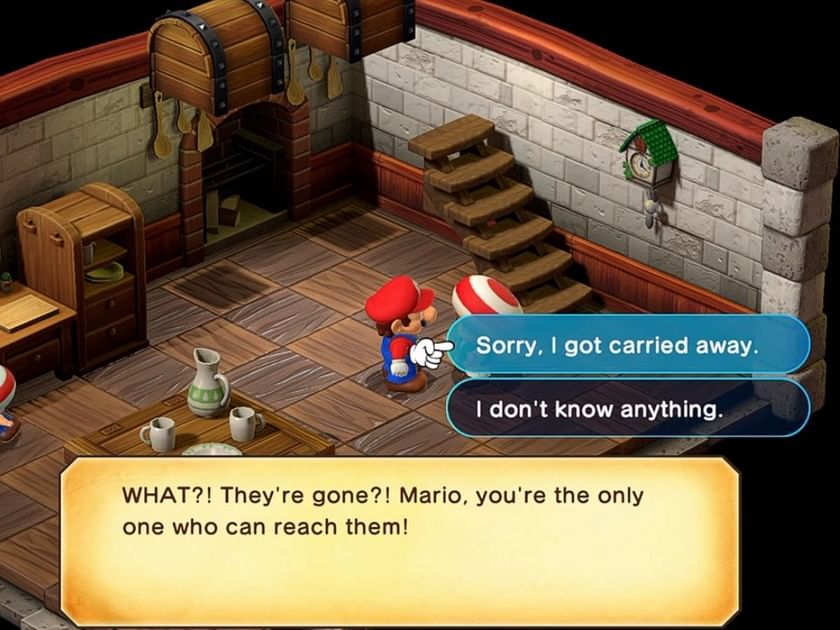 While in Rose Town, you have a chance to steal some treasures from a Toad who lives in one of the houses. If you apologize for taking his stuff, he will give you a hint on how to find this secret treasure room in the Forest Maze.
Super Mario RPG Remake has adjusted the rewards here slightly. The original game offered two Flowers, two Mushrooms, and a Frog Coin. After this, you can hop out of the pipe and resume your chase of Geno. He will be easy to follow at first, but then he'll stop giving you clues as to where he is going.
---
Super Mario RPG Remake is live on the Nintendo Switch, and our review is still forthcoming. Fans of the original will be glad to know that most of the easter eggs and humorous moments still exist in the game, such as the hidden "Peach's '???'" item in the Mushroom Kingdom.