I am proud to have been a part of the Australian team that won the Women's Cricket World Cup in India in 1997. It was a time when the game was purely amateur but our team approach was fully professional, and boasted some of the greatest players our country has produced, like Belinda Clark and Cathryn Fitzpatrick.
Whether we won or lost the World Cup we knew we would face a bill on arriving home. Our World Cup prize came in the generosity of a publican from Bendigo who covered all the team's additional costs out of his own pocket.
Loading
Walking out to bat in the final at Eden Gardens was truly amazing. A world record was being attempted that day by having the most amount of women participating in a World Cup final, and the sea of brightly coloured sarees was a visual I'll never forget. Very few female athletes have had the opportunity to be part of an event like that, and the feeling I had that day is one I hope the current players get to experience next year, here in Australia.
Last weekend I woke up to headlines that the England women's soccer team played in front of a record crowd of 77,000-plus at Wembley, only days after our Matildas attracted more than 20,000 to their international in Sydney.
These numbers are becoming more common as the appetite for women's sport is being embraced by more people due to investment, broadcast and, of course, phenomenal athletes doing amazing things on the sporting field. Meanwhile, the Women's Big Bash League continues to generate outstanding television ratings and mainstream media coverage across the country.
Interest in women's sport and equality is surging. Earlier this year online videos went viral showing an impassioned crowd chanting for "equal pay" when the US won the FIFA Women's World Cup. But it's more than goodwill. There is action being taken to capitalise on this momentum and put in place the foundations to enable future generations of women and girls to benefit from this movement.
Loading
Recently, the International Cricket Council announced a significant increase in prizemoney across the women's game, and Cricket Australia stepped up in a big way by committing to prizemoney parity for its national teams at the T20 World Cups in 2020. Then we saw Football Federation Australia announce an equal pay deal for male and female players. All great stories. More importantly, all examples of tangible progress.
Next year, the MCG will once again host a women's World Cup final, except this time around, the ambition is for a crowd more closely resembling the 93,000 that watched the Aussies triumph over the Kiwis in the final of the men's 50-over event in 2015. It's an opportunity for Australia to achieve something truly historic, and put our country at the centre of a global conversation around women's sport, equality and empowerment.
The current world record attendance for a women's sporting fixture is 90,185, set at the 1999 FIFA Women's World Cup played between hosts USA and China at the famous Rose Bowl arena in California.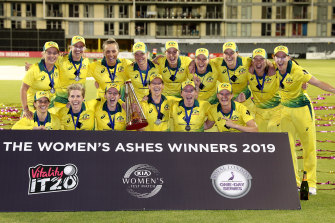 Wouldn't it be amazing for this number to be exceeded on March 8 next year, which happens to be International Women's Day, for the final of the T20 World Cup. As I was inspired in 1988, and as Indian captain Jhulan Goswami was when she attended the Eden Gardens final in 1997 as a young girl, how good would it be for the final in 2020 to inspire young girls and boys at the ground or watching at home on TV, who never thought a female could compete on a stage like that.
Or, for a parent who can say to their daughter, ''You can aspire to that, too'', and for young boys to grow up knowing it to be the norm for women's sport to be showcased and embraced in such a way. It's pretty cool to have Katy Perry on board, too!
I'll be there, and I can't wait.
Mel Jones is a former Australian Test cricketer and commentator, and was recently appointed to the Cricket Australia board.