COLUMBIA, Mo. — There the Tigers were, entrapped in the Gators' jaws.
Down 31-30 with just 96 seconds left in the game, the Tigers assembled a dramatic drive on the back of wide receiver Luther Burden III, churning down to the 13-yard line shortly after converting a fourth-and-17 situation when Burden caught a pass from quarterback Brady Cook.
From there, with eight seconds left on the clock, Harrison Mevis booted a game-winning 31-yard field goal through the uprights, his second game-winning kick of the year.
The 33-31 win over Florida moves MU to 9-2 overall and 5-2 in Southeastern Conference play.
Running back Cody Schrader continued to power the MU offense with 148 rushing yards, 127 of which came in the first half.
Most of MU's passing yards were the byproduct of receivers' post-catch efforts. Cook finished with 326 yards on 20 for 34 passing.
Missouri's first drive leaned on the run and Schrader in particular. The Tigers marched 70 yards down the field with eight run plays — Schrader and backup Nathaniel Peat each burst a carry for at least 15 yards — and a completed pass to tight end Brett Norfleet, whose Chase Coffman-esque hurdle landed Mizzou inside the Florida 10-yard line. Cook didn't have any open receivers on third and goal, bringing out Mevis for a 22-yard field goal to open scoring.
On Florida's second play of the game, cornerback Ennis Rakestraw Jr. slipped, leaving Gators wideout Ricky Pearsall running free for a 61-yard gain. Freshman wide receiver Eugene Wilson III worked his way between zones at the back of the end zone for an 8-yard receiving touchdown to give Florida a 7-3 lead after each team's first possession.
Mizzou's passing game continued to struggle as pressure forced Cook to throw the ball away on another third down.
Florida picked up a false start to begin its next drive before the Gators had really even lined up, and the three-man front stifled yet another third down. A poor punt put MU right around the 50-yard line to start its fourth drive of the game.
It only took three plays for Schrader to burst through a wide gap opened between left tackle Javon Foster and left guard Xavier Delgado, running 41 yards to the house for a 10-7 Mizzou lead.
Defensive tackle Josh Landry sacked Mertz to set up third down from behind the sticks, which was bailed out by an odd defensive holding penalty. On the next play, safety Jaylon Carlies grabbed a tipped ball and tapped both his feet in bounds for the game's first takeaway, his first interception since MU's Oct. 21 win over South Carolina.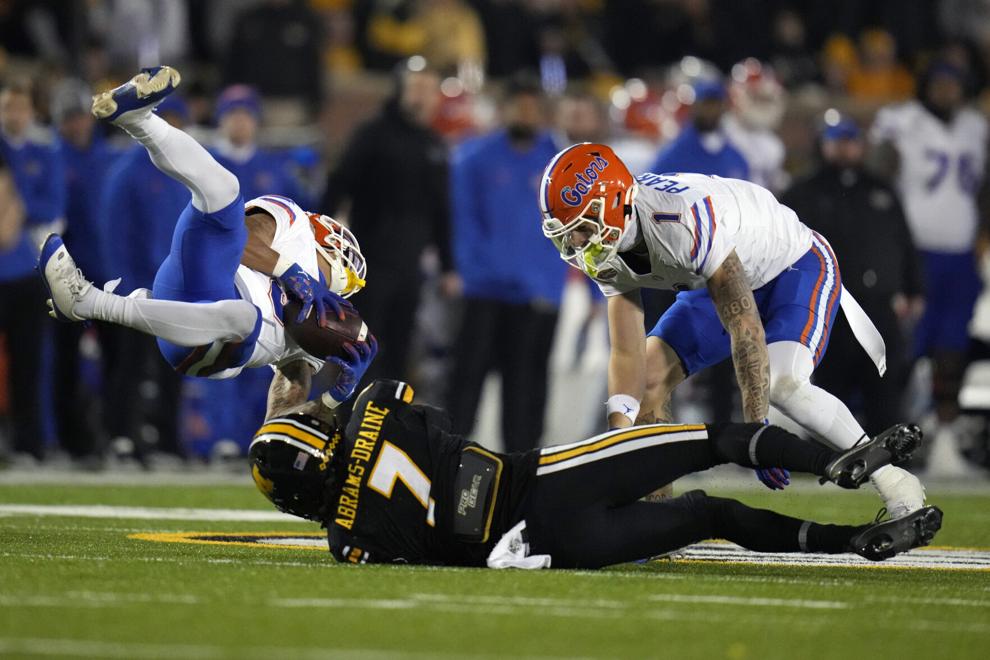 A deep-ball attempt to draw a pass interference penalty drew no such flash of yellow fabric, but an unperturbed Schrader flashed along the sideline for a 34-yard rush. That run, which came a few minutes before halftime, put him over the 100-yard threshold for the fourth consecutive game.
The drive fizzled inside the red zone when Cook let his knee touch the ground while picking up a low snap, bringing out Mevis to make a 39-yarder and increase the Tigers' lead to 13-7.
Gators running back Trevor Etienne burst through a wide hole in the middle of the Missouri defensive line for a 30-yard gain on the second play of the second half. Mertz found Wilson 13 yards downfield after extending a play with a rollout. The Florida quarterback ditched the pocket again and dumped off to Etienne, who sprinted 37 yards into the end zone to put UF ahead 14-13.
In sudden need of an offensive spark, a familiar face emerged for Mizzou. Burden caught a pass over his shoulder, broke a tackle and zipped along the left sideline for 38 yards. Norfleet shed a tackle without a problem for 15 yards, Schrader trucked down to the Florida 1-yard line and a second effort on a draw play from Cook secured a key response touchdown to re-capture a 20-14 lead.
Florida continued to lean on the midrange sideline routes that were consistently slicing open the MU defense, with tight end Hayden Hansen taking one of those plays for 38 yards to start the Gators drive. Two plays later, Pearsall ran to the left and sped through unexpectedly open airspace for a 39-yard score at the pylon — a three-play, 82-yard scoring drive that vaulted Florida back to a 21-20 advantage.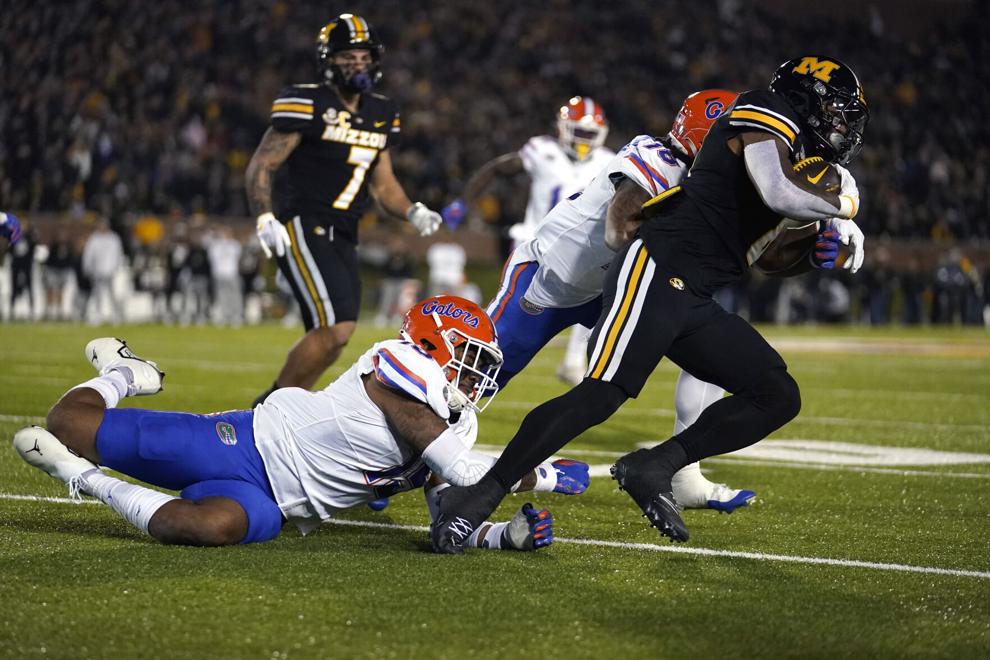 Burden's heroics saved a slow start as the East St. Louis product didn't just hold onto a catch through contact but break a tackle for a 48-yard gain accessorized by a roughing the passer penalty. Norfleet caught a touchdown pass over the middle that was negated by an ineligible receiver down field, creating a second-and-goal from the 19. The solution? Go back to Burden, who freed himself and laid out for a miraculous touchdown catch off a tipped pass — which was overturned because the ball touched the ground.
A Cook scramble on third and goal from the 13 did little besides shorten Mevis' third field goal of the game, which was good from 34 yards and for a 23-21 Mizzou lead.
Mertz trucked through Rakestraw and Hicks to pick up a first down, leaving both Mizzou defenders shaken up. A play later, Mertz plopped down next to the Florida sideline, pointing at his collarbone and throwing his helmet in disgust as he headed straight to the locker room.
On third-and-short and with Brown in the game, Gators running back Montrell Johnson Jr. burst through an increasingly porous MU run defense for a first down and 26 bonus yards.
A late hit penalty called on defensive end Johnny Walker Jr. during a Brown scramble was determined not to be an ejection-worthy targeting offense but still shuttled the Gators down inside the red zone.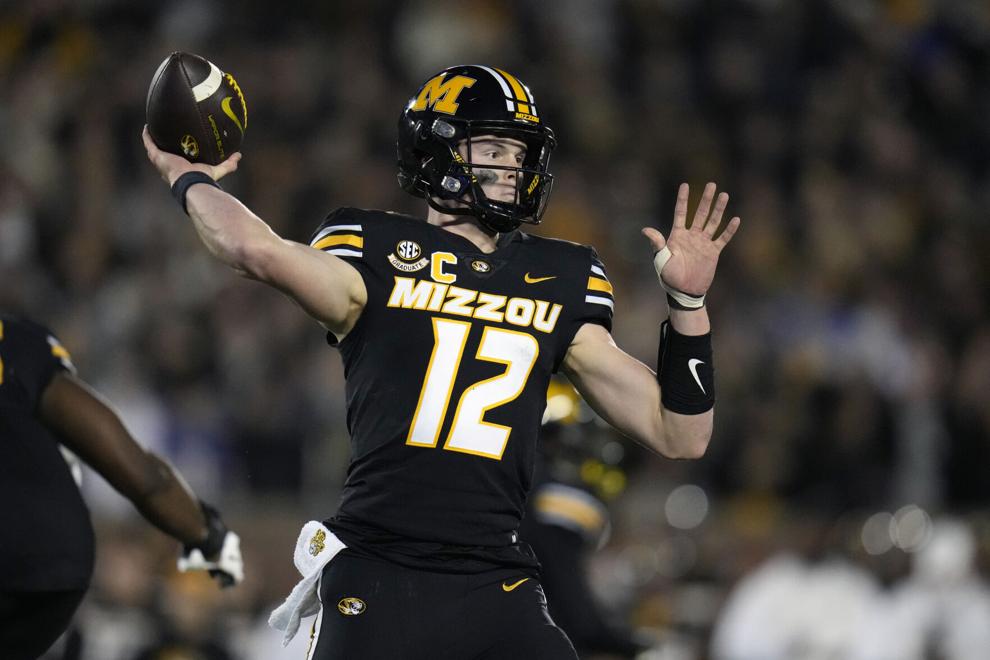 When Brown didn't pull back a fake handoff in time and the ball hit the ground, defensive tackle Kristian Williams dove on the ball, providing a takeaway at a vital time.
And then came the swing. Wide receiver Theo Wease Jr., who hadn't been targeted all game, caught the first pass sent his way in the flat. He dashed behind a solid block from wideout Mookie Cooper, tightroped along the sideline for 77 yards and into the end zone. The touchdown put Mizzou ahead by two scores, at 30-21, with 13 minutes and change left in the game.
Darius Robinson landed a sack for the seventh consecutive game, but a narrow fourth-down conversion kept the Gators' drive alive. Wide receiver Kahleil Jackson hauled in a long ball over MU cornerback Kris Abrams-Draine's coverage.
Brown's scrambling ability was too much for Mizzou's defense, a threat only surpassed by Etienne's ability to burst through the line for a walk-in nine-yard touchdown to bring the game back to 30-28.
There was no response from the Tigers. A stuffed run, useless scramble and poor punt put Florida in position to grab a winning score with 4:44 on the clock.
On a potential game-deciding third down, Brown tucked the ball on the read option and ran 27 yards downfield and into the red zone.
Mevis' kick left five seconds on the clock for Florida, which provided no opportunity to the Gators.
Missouri will close out the regular season next Friday at Arkansas (4-7, 1-6 SEC).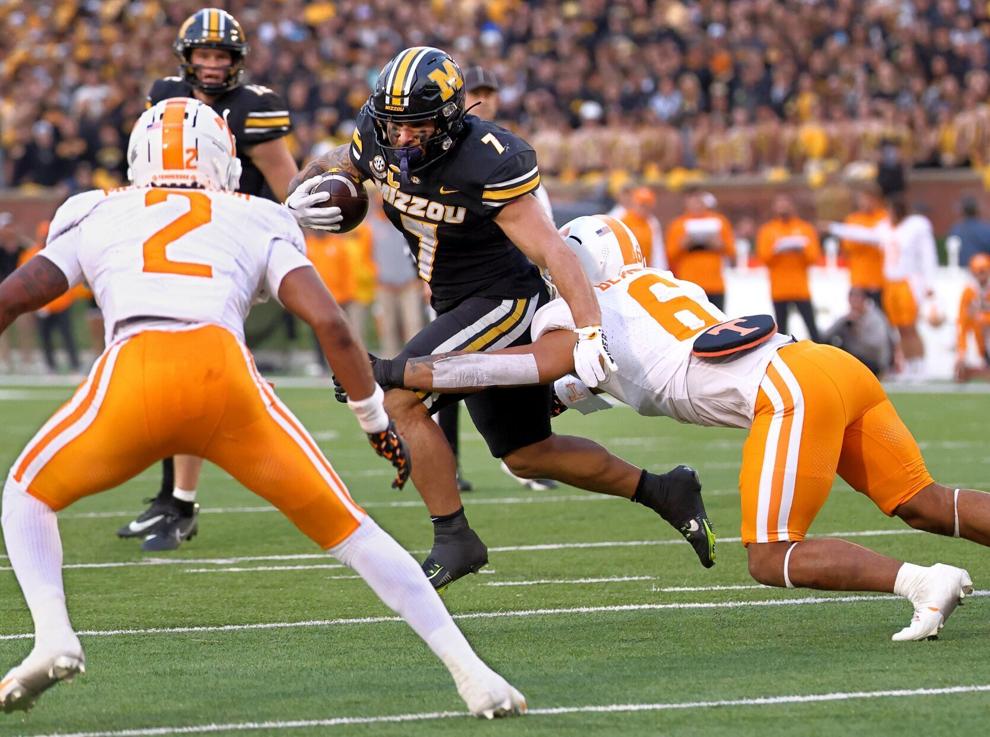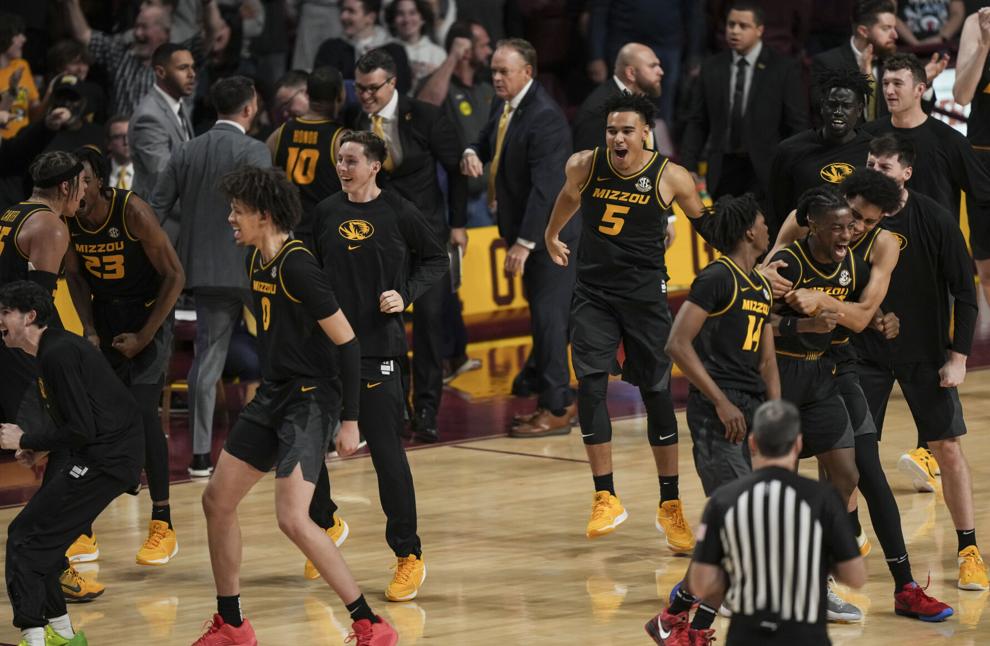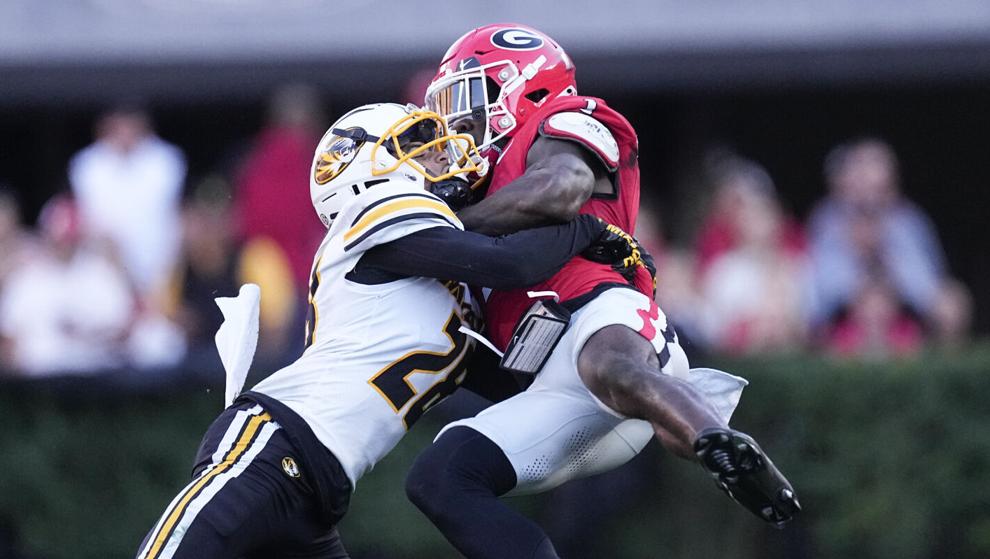 Mizzou football rallies for wild win vs. Florida on Senior Night at Faurot Field